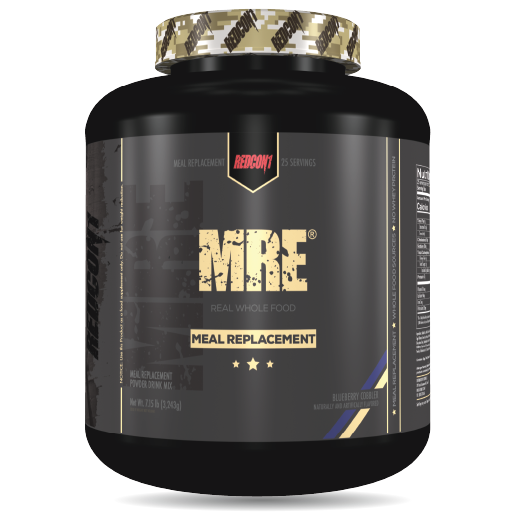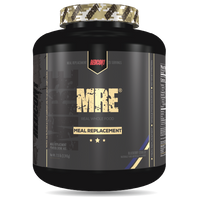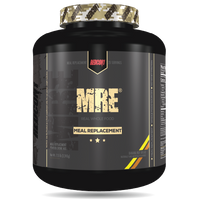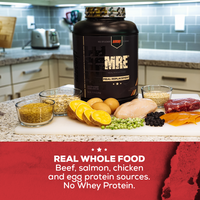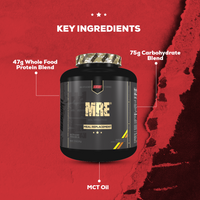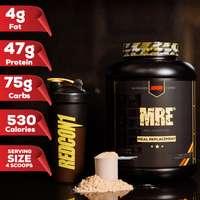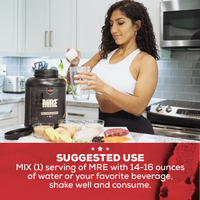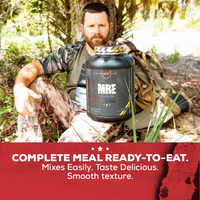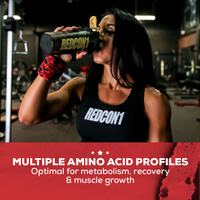 Animal Based Protein
MRE
25 Servings
Pay Over Time
Real Whole Food Protein Powder
The Objective:
THE MOST IMPORTANT FUEL YOU CAN GIVE YOUR BODY IS REAL WHOLE FOODS. WE CREATED MRE® TO PROVIDE YOUR BODY WITH THE BEST FUEL POSSIBLE. IN THE MILITARY, MRES ARE FOOD RATIONS THAT GIVE THE SOLDIERS THE NUTRIENTS THEY NEED TO SURVIVE ON A MISSION. WITH MRE® WE HAVE GIVEN YOU THE FUEL YOU NEED TO REPAIR AND RECOVER AFTER WORKOUTS FROM HIGH QUALITY WHOLE FOOD SOURCES. STOP REACHING FOR FAST FOOD AND REACH FOR WHOLE FOODS WITH MRE®

LE CARBURANT LE PLUS IMPORTANT QUE VOUS POUVEZ DONNER À VOTRE CORPS EST DE VRAIS ALIMENTS ENTIERS. NOUS AVONS CRÉÉ MRE® POUR OFFRIR À VOTRE CORPS LE MEILLEUR CARBURANT POSSIBLE. DANS L'ARMÉE, LES MRES SONT DES RATIONS ALIMENTAIRES QUI DONNENT AUX SOLDATS LES NUTRIMENTS DONT IL A BESOIN DE SURVIVRE EN MISSION. AVEC MRE®, NOUS VOUS AVONS DONNÉ LE CARBURANT DONT VOUS AVEZ BESOIN POUR RÉPARER ET RÉCUPÉRER APRÈS L'ENTRAÎNEMENT À PARTIR DE SOURCES DE NOURRITURE ENTIÈRE DE HAUTE QUALITÉ. ARRÊTEZ D'ATTENDRE LA RESTAURATION RAPIDE ET ACCÉDEZ AUX ALIMENTS COMPLETS AVEC MRE®
Suggested Use:
FOR ADDED DIETARY PROTEIN OR A MEAL REPLACEMENT, MIX (1) SERVING OF MRE WITH 14-16 OUNCES OF WATER OR YOUR FAVORITE BEVERAGE, SHAKE WELL AND CONSUME.

POUR AJOUTER DES PROTÉINES ALIMENTAIRES OU UN REMPLACEMENT DE REPAS, MÉLANGER (1) PORTION DE MRE AVEC 14-16 ONCES D'EAU OU VOTRE BOISSON PRÉFÉRÉE, BIEN AGITER ET CONSOMMER.
Ultimate Meal Replacement
Fuel your body with MRE, commonly known in the Military as Meals Ready-to-Eat. M.R.E. are rations given to the soldiers to provide them with nutrients to keep running strong while out in the field. The most important fuel you can give your body is real food, especially whole foods. MRE is made from natural ingredients and a real protein blend. Our formula contains absolutely no whey! With MRE, we have given you the nutrients you need to repair and recover muscle tissue from the best possible whole foods sources. Stop reaching for fast foods and reach for whole foods with M.R.E. Contains: Milk, Eggs, Fish (Salmon), Coconut Warning: manufactured on shared equipment which processes products containing milk, egg, soybean, wheat, shellfish, fish, tree nut flavor and peanut flavor


Alimentez votre corps avec le MRE, communément appelé dans l'armée les repas prêts à manger. M.R.E. sont des rations données aux soldats pour leur fournir des nutriments pour continuer à courir fort pendant qu'ils sont sur le terrain. Le carburant le plus important que vous puissiez donner à votre corps est la vraie nourriture, en particulier les aliments entiers. MRE est fabriqué à partir d'ingrédients naturels et d'un véritable mélange de protéines. Notre formule ne contient absolument pas de lactosérum ! Avec MRE, nous vous avons fourni les nutriments dont vous avez besoin pour réparer et récupérer le tissu musculaire à partir des meilleures sources d'aliments entiers possibles. Arrêtez de chercher des fast-foods et optez pour des aliments entiers avec M.R.E. Contient : Lait, Fishufs, Poisson (Saumon), Noix de Coco Avertissement : fabriqué sur un équipement partagé qui traite des produits contenant du lait, des œufs, du soja, du blé, des crustacés, du poisson, de la saveur de noix et de la saveur d'arachide
Beef protein blend, salmon protein, chicken protein, egg protein, brown rice protein and pea protein
Rolled oats, yams and sweet potato
Commonly extracted from coconut oil, MCT (medium chain triglyceride) oil is a source of fats that the body can efficiently use as a source of energy
Mélange de protéines de bœuf, protéines de saumon, protéines de poulet, protéines d'œufs, protéines de riz brun et protéines de pois
Flocons d'avoine, ignames et patate douce
Communément extraite de l'huile de noix de coco, l'huile MCT (triglycéride à chaîne moyenne) est une source de graisses que le corps peut utiliser efficacement comme source d'énergie.
1. Is MRE vegan friendly?
No, MRE is not vegan friendly. MRE is made from animal protein sources such as fish, beef, eggs and chicken.
2. Is MRE dairy free?
NO. While MRE contains no whey protein, it does contain dairy and should not be consumed if you have a dairy allergy.
3. Does MRE contain whey?
No, MRE does not contain whey protein, but mixes just as easily as a whey shake.
4. Can MRE be used as a meal replacement?
Yes, MRE is the ideal meal replacement shake.
5. How many scoops is ideal for a shake?
A full 4 scoops is the perfect shake for a meal replacement, but depending on your diet a 2-4 scoops is great.
6. Is MRE foamy?
Minimal foam if any.
7. Is MRE clumpy?
No, MRE mixes easily and goes down smooth.
8. Is MRE meant to only be mixed with water?
No, MRE can be mixed with water, milk, almond milk or whatever your preference is.
9. Can you taste the salmon?
No, you absolutely can NOT taste the salmon.
1. MRE est-il végétalien ?
Non MRE n'est pas végétalien. Le MRE est fabriqué à partir de sources de protéines animales telles que le poisson, le bœuf, les œufs et le poulet.
2.Le MRE est-il sans produits laitiers ?
NON. Bien que le MRE ne contienne pas de protéines de lactosérum, il contient des produits laitiers et ne doit pas être consommé si vous avez une allergie aux produits laitiers.
3. Le MRE contient-il du lactosérum ?
Pas de lactosérum mais se mélange aussi facilement qu'un shake de lactosérum.
4. Le MRE peut-il être utilisé comme substitut de repas ?
Oui, MRE est le shake substitut de repas idéal.
5. Combien de cuillères est idéale pour un shake ?
4 cuillères à soupe complètes sont les shakes parfaits pour un substitut de repas, mais selon votre régime alimentaire, 2 à 4 cuillères à soupe sont idéales.
6. Le MRE est-il mousseux ?
Mousse minimale s'il y en a.
7. L'ERM est-il grumeleux ?
Non, MRE se mélange facilement et se dépose en douceur.
8. Le MRE est-il uniquement destiné à être mélangé avec de l'eau ?
Aucun MRE ne peut être mélangé avec de l'eau, du lait, du lait d'amande ou selon votre préférence.
9. Pouvez-vous goûter le saumon ?
Non, vous ne pouvez absolument PAS goûter le saumon.
Awards:
MRE | Animal Based Protein