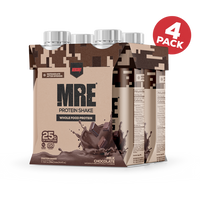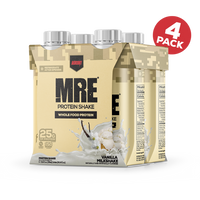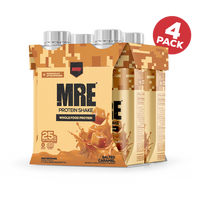 Redcon1 Exclusive
MRE RTD (4 Pack, 11 ounce)
Pay Over Time
Train and compete at the highest level
The Objective:
Being at THE HIGHEST STATE OF READINESS does not just mean pre- or post- training. It's being prepared, ready and at your best, all the time….even on-the-go. So, we've taking our best-belling protein powder, MRE®, and made a convenient, ready-to-drink shake that delivers quality nutrition and will keep you fueled anytime, anywhere. MRE® PROTEIN SHAKE features an ingredient profile consistent with the entire MRE line: whole food protein sources, never any whey or lactose, and delicious milkshake-like flavors. With 40g of protein from real whole food in each shake, it's never been easier or more convenient to have a nutritious, satisfying meal, no matter your schedule.

Être à L'ÉTAT DE PRÉPARATION LE PLUS ÉLEVÉ ne signifie pas seulement avant ou après l'entraînement. Il est préparé, prêt et à votre meilleur, tout le temps... même en déplacement. Nous avons donc pris notre meilleure poudre de protéines, MRE®, et avons créé un shake prêt à boire pratique qui fournit une nutrition de qualité et vous gardera alimenté à tout moment, n'importe où. MRE® PROTEIN SHAKE présente un profil d'ingrédients cohérent avec l'ensemble de la gamme MRE : des sources de protéines alimentaires entières, jamais de lactosérum ni de lactose, et de délicieuses saveurs de type milkshake. Avec 40 g de protéines provenant de vrais aliments entiers dans chaque shake, il n'a jamais été aussi facile ni plus pratique d'avoir un repas nutritif et satisfaisant, quel que soit votre emploi du temps.
Suggested Use:
FOR ADDED DIETARY PROTEIN, A BRIDGE BETWEEN MEALS OR A NUTRITIOUS SNACK, SHAKE WELL AND ENJOY. BEST SERVED COLD. REFRIGERATE AFTER OPENING.

POUR DES PROTÉINES ALIMENTAIRES AJOUTÉES, UN PONT ENTRE LES REPAS OU UNE COLLATION NUTRITIONNELLE, BIEN AGITER ET SAVOURER. MEILLEUR SERVI FROID. RÉFRIGÉRER APRÈS OUVERTURE.
The highest state of readiness
Awards:
MRE RTD (4 Pack, 11 ounce)