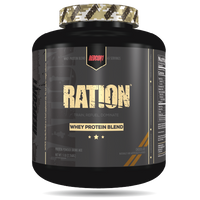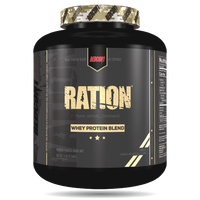 Redcon1 Exclusive
Ration- Whey Protein (5 LB)
Pay Over Time
Train and compete at the highest level
The Objective:
DIG INTO A DELICIOUS MUSCLE SUPPORTING AND HUNGER CRUSHING PROTEIN DRINK. ENJOY YOUR PROTEIN REQUIREMENTS LIKE YOU NEVER THOUGHT POSSIBLE.

DIGEZ DANS UNE BOISSON PROTÉINÉE DÉLICIEUSE SOUTENANT LES MUSCLES ET ÉCRASANT LA FAIM. PROFITEZ DE VOS BESOINS EN PROTÉINES COMME VOUS N'AVEZ JAMAIS PENSÉ POSSIBLE.
Suggested Use:
FOR ADDED DIETARY PROTEIN, A BRIDGE BETWEEN MEALS OR A PROTEIN-RICH SNACK, MIX (1) SCOOP OF RATION WITH 4-6 OUNCES OF YOUR FAVORITE BEVERAGE, SHAKE WELL AND CONSUME.

POUR DES PROTÉINES ALIMENTAIRES AJOUTÉES, UN PONT ENTRE LES REPAS OU UNE COLLATION RICHE EN PROTÉINES, MÉLANGEZ (1) CUILLÈRE DE RATION AVEC 4 À 6 ONCES DE VOTRE BOISSON PRÉFÉRÉE, BIEN AGITER ET CONSOMMER.
The highest state of readiness
1. Most whey proteins are foamy and clumps up is RATION in the same boat?
No, very little foam occurs when mixing and no clumpiness.
2. I see RATION is a whey blend does that make it a lower quality product?
No absolutely not! Ration is a blend of Hydrolysate and Concentrate.
3. What is the best way to mix RATION?
Water is ideal to keep calories low but you can mix with it water, milk or almond milk.
4. When is the best time to take RATION?
Chug it down after your workout or sip it throughout the day as part of a quick and easy protein drink.
5. How much RATION should I use per serving?
How much RATION is really dependent on your protein needs. depends on your protein requirements. Each scoop of RATION contains 24 grams of protein.
6. Can I mix CLUSTER BOMB® and RATION together post training?
Yes, it is a great way to get carbs and proteins in post workout.
7. Can I mix RATION with BREACH®?
Yes, however, for best results we suggest taking them separately.
8. Is there lactose in RATION?
Yes, because of the whey concentrate Ration contains lactose.
9. I'm lactose intolerant can I consume RATION?
If you're lactose intolerant we recommend not consuming Ration.
10. What is the consistency of RATION after being mixed?
Ration is a littler thicker and has a milk shake-like consistency.
1. La plupart des protéines de lactosérum sont mousseuses et s'agglutinent, est-ce que RATION est dans le même bateau ?
Non, très peu de mousse se produit lors du mélange et pas de grumeaux.
2. Je vois que RATION est un mélange de lactosérum, cela en fait-il un produit de moindre qualité ?
Non absolument pas ! La ration est un mélange d'hydrolysat et de concentré.
3. Quelle est la meilleure façon de mélanger RATION ?
L'eau est idéale pour réduire les calories, mais vous pouvez y mélanger de l'eau, du lait ou du lait d'amande.
4.Quel est le meilleur moment pour prendre RATION ?
.Buvez-le après votre entraînement ou sirotez-le tout au long de la journée dans le cadre d'une boisson protéinée rapide et facile.
5. Quelle quantité de RATION dois-je utiliser par portion ?
La quantité de RATION dépend vraiment de vos besoins en protéines. dépend de vos besoins en protéines. Chaque cuillère de RATION contient 24 grammes de protéines.
6. Puis-je mélanger CLUSTER BOMB® et RATION ensemble après la formation ?
Oui, c'est un excellent moyen d'obtenir des glucides et des protéines après l'entraînement.
7.Puis-je mélanger RATION avec BREACH® ?
Oui, cependant, pour de meilleurs résultats, nous suggérons de les prendre séparément.
8.Y a-t-il du lactose dans RATION ?
Oui, car la ration de concentré de lactosérum contient du lactose.
9. Je suis intolérant au lactose, puis-je consommer RATION ?
Si vous êtes intolérant au lactose, nous vous recommandons de ne pas consommer Ration.
10. Quelle est la consistance de RATION après mélange ?
La ration est un peu plus épaisse et a une consistance semblable à celle d'un milk-shake
Awards: