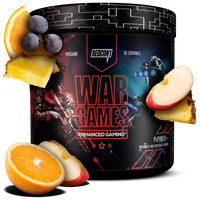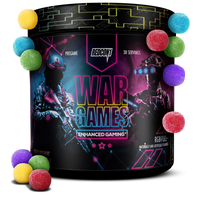 Redcon1 Exclusive
War Games
Pay Over Time
The Objective:
THE WORLD OF E-SPORTS IS CONSTANTLY EVOLVING, WITH PLAYERS PUSHING THEIR PERFORMANCE TO THE LIMITS TO MAXIMIZE THEIR REWARDS. BEFORE GOING IN THE DIGITAL BATTLEFIELD, MAKE SURE YOU PRE-GAME WITH WAR GAMES. WAR GAMES WAS DESIGNED WITH THE ELITE GAMER IN MIND, TO HELP PROMOTE HAND/EYE COORDINATION, SUPPORT COGNITIVE FUNCTION, AS WELL AS HELP TO REDUCE EYE STRAIN AND FATIGUE ASSOCIATED WITH LOW-LIGHT GAMING. GET PREPARED FOR WAR WITH WAR GAMES.

LE MONDE DES E-SPORTS EST EN CONSTANTE ÉVOLUTION, LES JOUEURS POUSSANT LEURS PERFORMANCES AUX LIMITES POUR MAXIMISER LEURS RÉCOMPENSES. AVANT D'ALLER DANS LE CHAMP DE BATAILLE NUMÉRIQUE, ASSUREZ-VOUS D'AVOIR UN JEU DE GUERRE. WAR GAMES A ÉTÉ CONÇU AVEC LE JOUEUR D'ÉLITE À L'ESPRIT, POUR AIDER À PROMOUVOIR LA COORDINATION MAIN/ŒIL, SOUTENIR LA FONCTION COGNITIVE, AINSI QUE CONTRIBUER À RÉDUIRE LA FATIGUE OCULAIRE ET LA FATIGUE ASSOCIÉES AUX JEUX À FAIBLE ÉCLAIRAGE. PRÉPAREZ-VOUS POUR LA GUERRE AVEC DES JEUX DE GUERRE.
Suggested Use:
FOR BEST RESULTS, MIX (1) SCOOP OF WAR GAMES WITH 8-12 OUNCES OF WATER OR YOUR FAVORITE BEVERAGE AND CONSUME 30 MINS PRIOR TO GAMING. FOR MAXIMUM RESULTS, WAR GAMES SHOULD BE TAKEN ONLY BEFORE GAMING SESSIONS.

POUR DE MEILLEURS RÉSULTATS, MÉLANGEZ (1) SCOOP DE JEUX DE GUERRE AVEC 8 À 12 ONCES D'EAU OU VOTRE BOISSON PRÉFÉRÉE ET CONSOMMEZ 30 MINUTES AVANT LE JEU. POUR UN MAXIMUM DE RÉSULTATS, LES JEUX DE GUERRE DOIVENT ÊTRE PRISES UNIQUEMENT AVANT LES SESSIONS DE JEU.
BE ALERT, PRIMED AND READY FOR YOUR BEST GAME.
DO YOU WANT TO KNOW THE SECRET PRO GAMERS USE TO DOMINATE? WAR GAMES. OUR ENHANCED GAMING FORMULA DELIVERS THE NOOTROPICS AND INGREDIENTS THAT MODERN-DAY GAMERS REQUIRE TO COMBAT FATIGUE AND FEEL ALERT, ENERGIZED, AND PREPARED FOR ADVANCED GAMING. THIS PROFESSIONAL GRADE FORMULA UNLOCKS HYPER FOCUS, ENABLES SPLIT SECOND REACTION TIME AND SUPPORTS EYE HEALTH DURING LONG GAMING SESSIONS.

VOULEZ-VOUS CONNAÎTRE LE SECRET UTILISÉ PAR LES PRO GAMERS POUR DOMINER ? JEUX DE GUERRE. NOTRE FORMULE DE JEU AMÉLIORÉE FOURNIT LES NOOTROPICS ET LES INGRÉDIENTS QUE LES JOUEURS D'AUJOURD'HUI EXIGENT POUR COMBATTRE LA FATIGUE ET SE SENTIR VIGILANTS, ÉNERGISÉS ET PRÉPARÉS POUR LE JEU AVANCÉ. CETTE FORMULE DE QUALITÉ PROFESSIONNELLE DÉVERROUILLE HYPER FOCUS, PERMET UN TEMPS DE RÉACTION EN SECONDE DIVISÉE ET SOUTIENT LA SANTÉ DES YEUX PENDANT LES LONGUES SESSIONS DE JEU.
1. How is TOTAL WAR® different from other pre-workouts on the market?
Milligram for milligram you won't find a stronger pre-workout than TOTAL WAR®. All ingredients are fully dosed for efficacy and the label is completely transparent. Additionally, we do not use artificial colors in the products. Lastly, TOTAL WAR® is a complete pre-workout, combining endurance, pump, energy and focus ingredients, instead of just a concentrated stimulant based pre-workout.
2. What is the clinical dosage of Citrulline Malate for pumps?
The clinical dosage of citrulline for pumps is 4 grams but the study was conducted with 6 grams of l-citrulline malate 2:1, which yields 4 grams of elemental citrulline; same as what is in TOTAL WAR®
3. Can I stack TOTAL WAR® and BIG NOISE®?
For optimal results, take 1 scoop of TOTAL WAR® 30 minutes prior to training.
4. Can I still take MENTAL TRIGGER® or DOUBLE TAP® throughout the day if I use TOTAL WAR® pre-workout?
We wouldn't recommend using all three at the same time. Since all 3 products contain stimulants, we would suggest making sure your servings of each product are separated by 3-4 hours.
5. Am I able to use TOTAL WAR® prior to cardio, is there any benefit?
Due to the stimulant portion of TOTAL WAR® you will definitely get a benefit precardio for energy and focus.
6. How does TOTAL WAR® vary from most stim-based pre-workouts on the market?Can I use TOTAL WAR® on days I'm feeling tired or do I need to take it every day for results?
Yes, however, it's most beneficial used on training days.
7.Do I need to cycle off of TOTAL WAR®?
We recommend 12 weeks on 4 weeks off to avoid becoming tolerant to the effects of the stimulants contained within TOTAL WAR®.
1. En quoi TOTAL WAR&reg est-il différent des autres pré-entraînements du marché?
Milligramme pour milligramme, vous ne trouverez pas de produit plus fort. Tous les ingrédients sont à des dosages cliniques pour l'efficacité ainsi que la transparence totale de l'étiquette. De plus, nous n'utilisons pas de colorants artificiels dans les produits. Enfin, c'est un pré-entraînement complet, combinant des éléments d'endurance, de pompage, d'énergie et de concentration, ce n'est pas seulement un pré-entraînement concentré à base de stimulants.
2. Quel est le dosage clinique du malate de citrulline pour pompes?
Le dosage clinique de citrulline pour les pompes est de 4 grammes mais l'étude a été menée avec 6 grammes de malate de l-citrulline 2:1, ce qui donne 4 grammes de citrulline élémentaire; identique à ce qui se trouve dans TOTAL WAR®
3. Comment cumuler TOTAL WAR® et BIG NOISE?
Pour des résultats optimaux, prenez 1 cuillère de Total War® 30 minutes avant l'entraînement.
4. Puis-je continuer à prendre MENTAL TRIGGER ou DOUBLE TAP tout au long de la journée si j'utilise le pré-entraînement TOTAL WAR® ?
Nous ne recommandons pas d'utiliser les trois en même temps. Étant donné que les 3 produits contiennent des stimulants, nous vous suggérons de vous assurer que vos portions de chaque produit sont séparées de 3 à 4 heures.
5. Puis-je utiliser TOTAL WAR® avant le cardio, y a-t-il un avantage ?
En raison de la partie stimulante de TOTAL WAR® vous obtiendrez certainement un avantage précardio pour l'énergie et la concentration.
6. En quoi TOTAL WAR® diffère-t-il de la plupart des pré-entraînements basés sur des stimulations sur le marché ? Puis-je utiliser TOTAL WAR® les jours où je me sens fatigué ou dois-je le prendre tous les jours pour obtenir des résultats ?
Oui, cependant, il est plus avantageux de l'utiliser les jours d'entraînement.
7.Dois-je arrêter TOTAL WAR®?
Nous recommandons 12 semaines sur 4 semaines de congé pour éviter de devenir tolérant aux effets des stimulants contenus dans of TOTAL WAR®.
Awards: