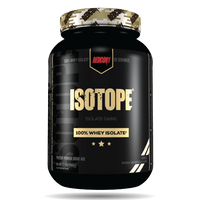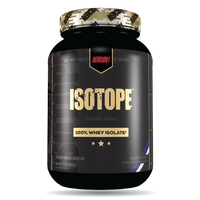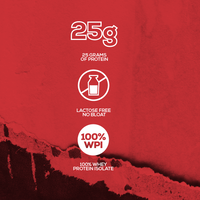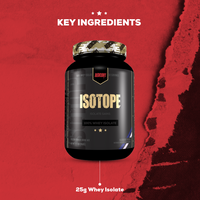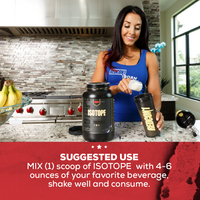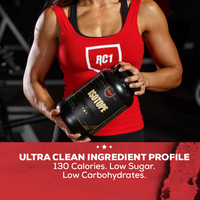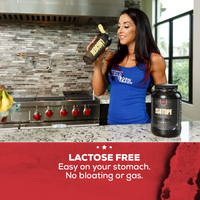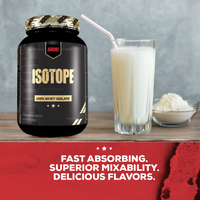 100% Whey Isolate Protein
Isotope 2lb
30 Servings
Pay Over Time
100% Whey Isolate Protein Powder
The Objective:
POST WORKOUT OR THROUGHOUT THE DAY, YOU WON'T FIND A BETTER WHEY ISOLATE THAN ISOTOPE. BUILD AND REPAIR MUSCLE WITH A SMOOTH, DELICIOUS, AND EASY TO DIGEST PROTEIN.

APRÈS L'ENTRAÎNEMENT OU TOUT AU LONG DE LA JOURNÉE, VOUS NE TROUVEREZ PAS UN MEILLEUR ISOLAT DE WHEY QUE L'ISOTOPE. CONSTRUIRE ET RÉPARER LES MUSCLES AVEC UNE PROTÉINE LISSE, DÉLICIEUX ET FACILE À DIGÉRER.
Suggested Use:
FOR ADDED DIETARY PROTEIN, A BRIDGE BETWEEN MEALS OR A PROTEIN-RICH SNACK, MIX (1) SCOOP OF ISOTOPE WITH 4-6 OUNCES OF YOUR FAVORITE BEVERAGE, SHAKE WELL AND CONSUME.

POUR AJOUTER DES PROTÉINES ALIMENTAIRES, UN PONT ENTRE LES REPAS OU UNE COLLATION RICHE EN PROTÉINES, MÉLANGEZ (1) SCOOP D'ISOTOPE AVEC 4-6 ONCES DE VOTRE BOISSON PRÉFÉRÉE, BIEN AGITER ET CONSOMMER.
Support Muscle Recovery and Growth
High-quality whey protein isolate is at a premium now more so than ever before in the supplement industry. Athletes know the importance of using whey protein to either jumpstart their morning, as part of a complete post-workout meal, or throughout the day to help satisfy their nutritional requirements. Isotope checks off every box you're looking for when deciding which WPI to supplement with. First, it checks out on a performance standpoint. No corners were cut. Second, it tastes great and mixes easily. And lastly, it's 100% reliable for the hardcore bodybuilder or athlete who needs precision and accuracy when calculating your daily caloric needs. Allergen Warning: Manufactured on shared equipment which processes products containing milk, egg, soybeans, wheat, shellfish, fish, tree nuts flavor, and peanuts flavor. Settling may occur.

L'isolat de protéine de lactosérum de haute qualité est plus que jamais primordial dans l'industrie des suppléments. Les athlètes connaissent l'importance d'utiliser des protéines de lactosérum pour démarrer leur matinée, dans le cadre d'un repas complet après l'entraînement, ou tout au long de la journée pour aider à satisfaire leurs besoins nutritionnels. Isotope coche chaque case que vous recherchez pour décider avec quel WPI compléter. Tout d'abord, il vérifie du point de vue des performances. Aucun coin n'a été coupé. Deuxièmement, il a bon goût et se mélange facilement. Et enfin, il est fiable à 100% pour le bodybuilder ou l'athlète hardcore qui a besoin de précision et d'exactitude lors du calcul de vos besoins caloriques quotidiens. Avertissement sur les allergènes : fabriqué sur un équipement partagé qui traite des produits contenant du lait, des œufs, du soja, du blé, des crustacés, du poisson, des arômes de noix et d'arachides. Un tassement peut se produire.
Whey Protein is the liquid remaining when milk is processed to form cheese. Whey protein isolate undergoes additional processing to remove the remaining fat and carbohydrate content from the whey to result in a very high percentage of proteins and many essential amino acids.
La protéine de lactosérum est le liquide restant lorsque le lait est transformé pour former du fromage. L'isolat de protéines de lactosérum subit un traitement supplémentaire pour éliminer les graisses et les glucides restants du lactosérum pour obtenir un pourcentage très élevé de protéines et de nombreux acides aminés essentiels.
1. Most isolate proteins are foamy, is ISOTOPE foamy?
No, very minimal foam occurs when mixing.
2. I see there is 3 different types of isolates in ISOTOPE, is this still a 100% isolate protein?
Yes, each serving is 100% whey protein isolate.
3. What is the best way to mix ISOTOPE?
Water is ideal to minimize calories but you can mix with water or your favorite beverage such as juice or milk.
4. When is the best time to take ISOTOPE?
Immediately post workout is the optimal time to take a fast digesting whey protein isolate such as ISOTOPE.
5. How much ISOTOPE should I use per serving?
How much ISOTOPE is really dependent on your protein needs. If you are between 100-150 pounds, we suggest 1 scoop per serving. Over 150 pounds, 2 scoops per serving is ideal.
6. Can I mix CLUSTERBOMB and ISOTOPE together post training?
Yes, it is a great way to get carbs and proteins in post workout.
7. Can I mix ISOTOPE with BREACH?
Yes, however, for best results we suggest taking them separately.
8. Is ISOTOPE only meant to be mixed with water?
It's best with water, but can be mixed with other juices.
9. Is there lactose in ISOTOPE?
No, ISOTOPE is 100% free of lactose.
10. What is the source of protein in ISOTOPE?
ISOTOPE is derived from 100% milk sources.
1. La plupart des protéines isolées sont mousseuses, ISOTOPE est-il mousseux ?
Non, très peu de mousse se produit lors du mélange.
2. Je vois qu'il existe 3 types d'isolats différents dans ISOTOPE, est-ce toujours une protéine d'isolat à 100 % ?
Oui, chaque portion est composée à 100 % d'isolat de protéine de lactosérum.
3. Quelle est la meilleure façon de mélanger ISOTOPE ?
L'eau est idéale pour minimiser les calories mais vous pouvez la mélanger avec de l'eau ou votre boisson préférée comme du jus ou du lait.
4. Quel est le meilleur moment pour prendre ISOTOPE ?
Immédiatement après l'entraînement, c'est le moment optimal pour prendre un isolat de protéine de lactosérum à digestion rapide tel que ISOTOPE.
5. Quelle quantité d'ISOTOPE dois-je utiliser par portion ?
La quantité d'ISOTOPE dépend vraiment de vos besoins en protéines. Si vous pesez entre 100 et 150 livres, nous suggérons 1 cuillère par portion. Plus de 150 livres, 2 cuillères par portion sont idéales.
6. Puis-je mélanger CLUSTERBOMB et ISOTOPE après la formation ?
Oui, c'est un excellent moyen d'obtenir des glucides et des protéines après l'entraînement.
7. Puis-je mélanger ISOTOPE avec BREACH ?
Oui, cependant, pour de meilleurs résultats, nous vous suggérons de les prendre séparément.
8. ISOTOPE est-il uniquement destiné à être mélangé avec de l'eau ?
C'est mieux avec de l'eau, mais peut être mélangé avec d'autres jus.
9. Y a-t-il du lactose dans ISOTOPE ?
Non, ISOTOPE est 100 % sans lactose.
10. Quelle est la source de protéines dans ISOTOPE ?
ISOTOPE est dérivé à 100 % de sources de lait.
Awards: