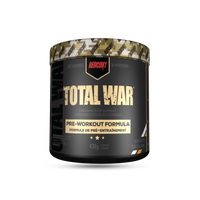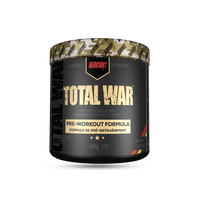 PreWorkout
Total War
30 Servings
Pay Over Time
Train and compete at the highest level
The Objective:
TOTAL WAR professional-grade, award-winning preworkout is formulated with premium ingredients packed premium ingredients that provides you with the unstoppable power to help you dominate even your most challenging workouts. With 30 clinically dosed servings per container and transparent ingredient labeling, everyone can now have access to an elite level pre workout without breaking their bank or sacrificing for a low-quality ingredient pre workouts.

QUAND IL EST TEMPS D'ALLER AU COMBAT, VOUS ALLEZ DUR AVEC TOTAL WAR®. VIVEZ UN ENTRAÎNEMENT D'UNE INTENSITÉ QUE VOUS NE CROYEZ PAS POSSIBLE. LA NOUVELLE FORCE ET L'ÉNERGIE TROUVÉES SONT À QUELQUES MINUTES. BLOQUEZ-VOUS ET PRÉPAREZ-VOUS À APPORTER LE BRUIT !
Suggested Use:
HOW TO TAKE | MIX 1 SCOOP IN 4-6 oz OF WATER WHEN TO TAKE | 30 MINUTES PRIOR TO TRAINING

QUAND IL EST TEMPS D'APPORTER LE BRUIT POUR UN ENTRAÎNEMENT, ÉVALUEZ VOTRE TOLÉRANCE EN PRENANT (½) SCOOP AVANT L'ENTRAÎNEMENT. UNE FOIS QUE VOTRE TOLÉRANCE EST ÉVALUÉE, MÉLANGEZ (1) CUILLER AVEC 4-6 ONCES D'EAU 30 MINUTES AVANT L'ENTRAÎNEMENT. NE PAS DÉPASSER (1) CUILLER DANS UNE PÉRIODE DE 24 HEURES.
The highest state of readiness
Train and compete with lights out intensity and energy. Redcon1's Total War® is what every pre workout wishes it was, packing more fire power per serving than anything in its class. Whether you train before work or school, middle of the day, or later in the evening, Redcon1's Total War® pre workout has the ability to come through every time out. The powerful combination of stimulants and focus factors along with N.O. compounds makes Total War® an all-in-one pre workout supplement. Enjoy the most energy, focus, and skin splitting pumps you've ever felt during a workout. You won't want to go home at 30 or 40 minutes, but instead somebody will need to pull you out of the gym. Redcon1's Total War® is not for the faint of heart, but for the serious athlete or gym goer who expects to perform at the highest level of readiness when called upon.

Entraînez-vous et rivalisez avec l'intensité et l'énergie des lumières. Le Total War® de Redcon1 est ce que tout pré-entraînement souhaite qu'il soit, offrant plus de puissance de feu par portion que tout ce qui est dans sa catégorie. Que vous vous entraîniez avant le travail ou l'école, au milieu de la journée ou plus tard dans la soirée, le pré-entraînement Total War® de Redcon1 a la capacité de se dérouler à chaque fois. La puissante combinaison de stimulants et de facteurs de concentration avec N.O. Les composés font de Total War® un complément de pré-entraînement tout-en-un. Profitez des pompes les plus énergétiques, de concentration et de division de la peau que vous ayez jamais ressenties pendant une séance d'entraînement. Vous ne voudrez pas rentrer à la maison à 30 ou 40 minutes, mais à la place, quelqu'un devra vous sortir de la salle de gym. Total War® de Redcon1 n'est pas pour les âmes sensibles, mais pour l'athlète sérieux ou l'amateur de gym qui s'attend à être au plus haut niveau de préparation lorsqu'il est sollicité.
There is 250 mg of active caffeine in the derivative product of 2500 mg of ingredients

250 mg of anhydrous caffeine: a dehydrated form of caffeine to promote alertness and wakefulness
Citrulline malate helps increase nitric oxide levels to help increase blood flow and provide nutrients to your muscles, creating the "pump" effect.
Beta-alanine is a natural version of the amino acid "alanine" studied for its ability to improve muscle endurance and reduce exhaustion. Beta-alanine can cause a tingling sensation on the skin. This is a typical and expected side effect.
Taurine is a naturally occurring amino acid researched to help improve metabolic function and physical performance
A natural derivative of the amino acid, arginine, a nutrient that helps support focus and improve muscle "pumps".
Il y a 250 mg de caféine active dans le produit dérivé de 2500 mg d'ingrédients

250 mg de caféine anhydre : une forme déshydratée de caféine pour favoriser la vigilance et l'éveil
Le malate de citrulline aide à augmenter les niveaux d'oxyde nitrique pour aider à augmenter le flux sanguin et à fournir des nutriments à vos muscles, créant ainsi l'effet « pompe ».
La bêta-alanine est une version naturelle de l'acide aminé «alanine» étudiée pour sa capacité à améliorer l'endurance musculaire et à réduire l'épuisement. La bêta-alanine peut provoquer une sensation de picotement sur la peau. C'est un effet secondaire typique et attendu.
La taurine est un acide aminé naturel recherché pour aider à améliorer la fonction métabolique et les performances physiques
Un dérivé naturel de l'acide aminé, l'arginine, un nutriment qui aide à soutenir la concentration et à améliorer les « pompes » musculaires.
1. How is TOTAL WAR® different from other pre-workouts on the market?
Milligram for milligram you won't find a stronger pre-workout than TOTAL WAR®. All ingredients are fully dosed for efficacy and the label is completely transparent. Additionally, we do not use artificial colors in the products. Lastly, TOTAL WAR® is a complete pre-workout, combining endurance, pump, energy and focus ingredients, instead of just a concentrated stimulant based pre-workout.
2. What is the clinical dosage of Citrulline Malate for pumps?
The clinical dosage of citrulline for pumps is 4 grams but the study was conducted with 6 grams of l-citrulline malate 2:1, which yields 4 grams of elemental citrulline; same as what is in TOTAL WAR®
3. Can I stack TOTAL WAR® and BIG NOISE®?
For optimal results, take 1 scoop of TOTAL WAR® 30 minutes prior to training.
4. Can I still take MENTAL TRIGGER® or DOUBLE TAP® throughout the day if I use TOTAL WAR® pre-workout?
We wouldn't recommend using all three at the same time. Since all 3 products contain stimulants, we would suggest making sure your servings of each product are separated by 3-4 hours.
5. Am I able to use TOTAL WAR® prior to cardio, is there any benefit?
Due to the stimulant portion of TOTAL WAR® you will definitely get a benefit precardio for energy and focus.
6. How does TOTAL WAR® vary from most stim-based pre-workouts on the market?Can I use TOTAL WAR® on days I'm feeling tired or do I need to take it every day for results?
Yes, however, it's most beneficial used on training days.
7.Do I need to cycle off of TOTAL WAR®?
We recommend 12 weeks on 4 weeks off to avoid becoming tolerant to the effects of the stimulants contained within TOTAL WAR®.
1. En quoi TOTAL WAR&reg est-il différent des autres pré-entraînements du marché?
Milligramme pour milligramme, vous ne trouverez pas de produit plus fort. Tous les ingrédients sont à des dosages cliniques pour l'efficacité ainsi que la transparence totale de l'étiquette. De plus, nous n'utilisons pas de colorants artificiels dans les produits. Enfin, c'est un pré-entraînement complet, combinant des éléments d'endurance, de pompage, d'énergie et de concentration, ce n'est pas seulement un pré-entraînement concentré à base de stimulants.
2. Quel est le dosage clinique du malate de citrulline pour pompes?
Le dosage clinique de citrulline pour les pompes est de 4 grammes mais l'étude a été menée avec 6 grammes de malate de l-citrulline 2:1, ce qui donne 4 grammes de citrulline élémentaire; identique à ce qui se trouve dans TOTAL WAR®
3. Comment cumuler TOTAL WAR® et BIG NOISE?
Pour des résultats optimaux, prenez 1 cuillère de Total War® 30 minutes avant l'entraînement.
4. Puis-je continuer à prendre MENTAL TRIGGER ou DOUBLE TAP tout au long de la journée si j'utilise le pré-entraînement TOTAL WAR® ?
Nous ne recommandons pas d'utiliser les trois en même temps. Étant donné que les 3 produits contiennent des stimulants, nous vous suggérons de vous assurer que vos portions de chaque produit sont séparées de 3 à 4 heures.
5. Puis-je utiliser TOTAL WAR® avant le cardio, y a-t-il un avantage ?
En raison de la partie stimulante de TOTAL WAR® vous obtiendrez certainement un avantage précardio pour l'énergie et la concentration.
6. En quoi TOTAL WAR® diffère-t-il de la plupart des pré-entraînements basés sur des stimulations sur le marché ? Puis-je utiliser TOTAL WAR® les jours où je me sens fatigué ou dois-je le prendre tous les jours pour obtenir des résultats ?
Oui, cependant, il est plus avantageux de l'utiliser les jours d'entraînement.
7.Dois-je arrêter TOTAL WAR®?
Nous recommandons 12 semaines sur 4 semaines de congé pour éviter de devenir tolérant aux effets des stimulants contenus dans of TOTAL WAR®.
Awards:
Total War-Preworkout (30 Servings)