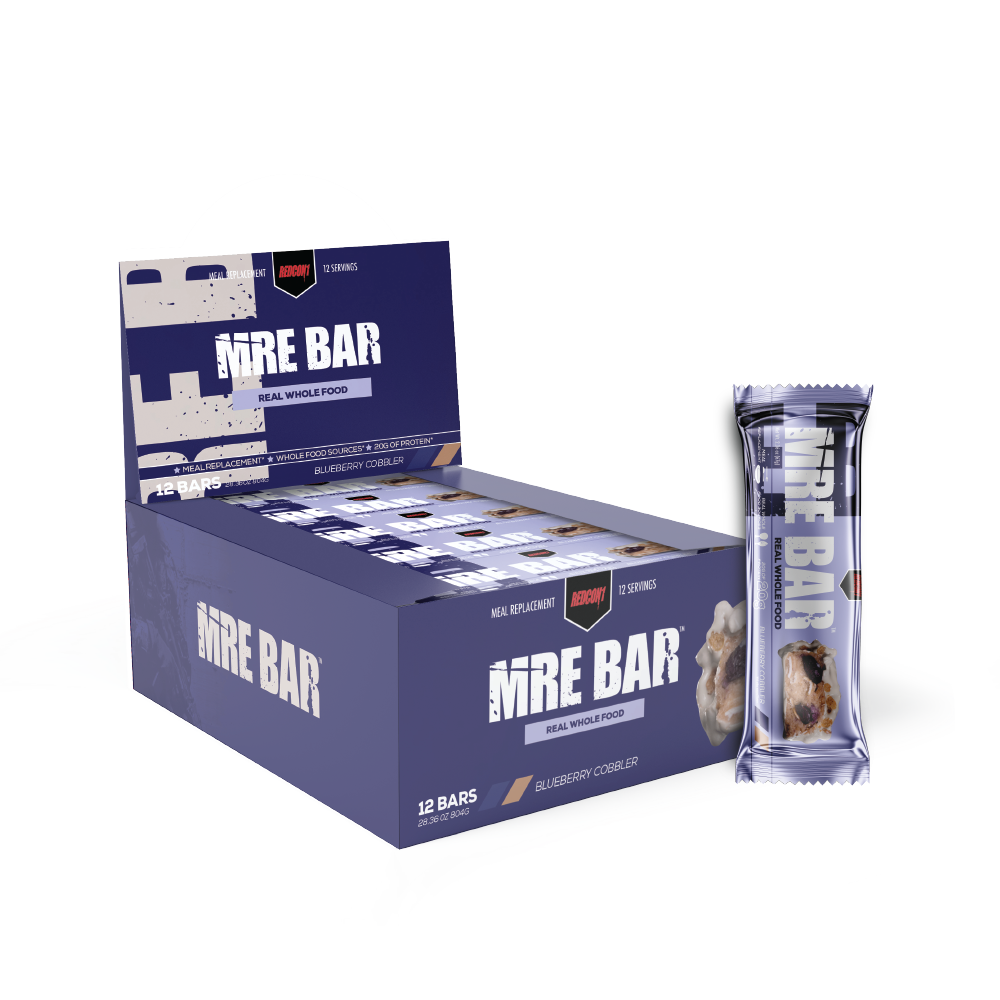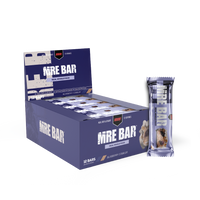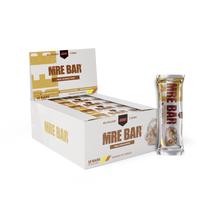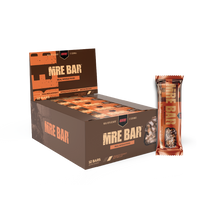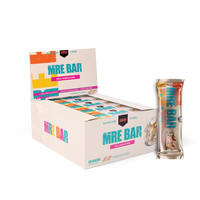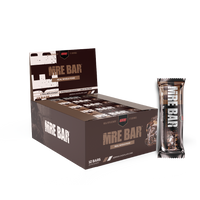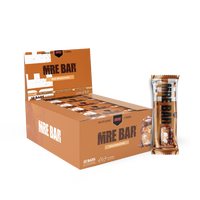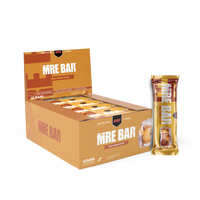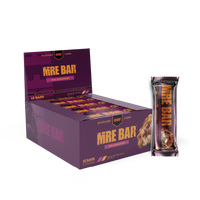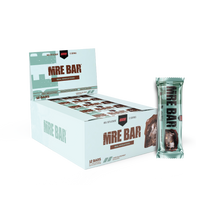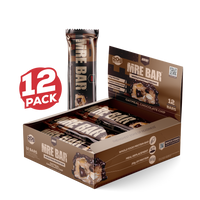 MEAL REPLACEMENT BAR
MRE-BAR
12 Servings
Pay Over Time
Real Whole Food Meal Replacement Bar
The Objective:
The perfect meal while on-the-go that's loaded with proper nutrition made from real food and won't make you feel overfull.

Le repas parfait sur le pouce qui regorge d'une bonne nutrition à base de vrais aliments et qui ne vous fera pas vous sentir trop plein.
Suggested Use:
Use MRE Bar as a meal replacement bar or when you're in need of a high-protein snack. We recommend eating an MRE Bar as a mid-day snack or for fuel before an intense training session.

Utilisez la barre MRE comme substitut de repas ou lorsque vous avez besoin d'une collation riche en protéines. Nous vous recommandons de manger une barre MRE comme collation de midi ou comme carburant avant une séance d'entraînement intense.
Just when you didn't think Redcon1's MRE could get any better we upped our game with MRE Bar. This real food meal replacement bar will change your outlook on protein bars forever as the days of heavy sugar alcohols added to your bars are long gone. Just like with the MRE Protein Powder formula, Redcon1's MRE Bar contains only whole-food sources which won't upset your stomach, cause cramping, or give you unwanted gas. The Macros A lot of bars on the shelf at the store have excess amounts of sugar ranging from 15g and even above 20g per bar! A snack or meal replacement that's healthy limits your sugar intake and doesn't bring it to excess. Not only that, there's usually a ton of carbs and low protein or just a huge imbalance in the macro count with a messed-up nutrition panel. Redcon1's MRE bar has a meager 6g of sugar with a healthy ratio 29g of carbohydrates and 20g of protein that's balanced with 9g of fats. These macro counts are perfect to fuel your workout without a drastic insulin spike and perform at your best. Packing only 260 total calories per bar, it's the perfect snack size meal while on the go, or pre-workout, that's loaded with proper nutrition made from real food and won't make you feel overfull. The Texture Protein bars can be pretty gross when they're all chewy and one big block of toffee rather than looking like appetizing food. Nobody wants to wear their snack on their fingers because it's sticky or have a bar that's too hard to break apart, difficult to chew and gets stuck in your teeth. A meal replacement bar should feel like eating food! Redcon1's MRE Bar easily breaks apart with an amazing food-like texture that's pleasant to chew. MRE Bar looks like real food, tastes like real food and chews like real food. Made from Real Food When eating a meal replacement, you should be eating real food. Just like Redcon1's MRE powder, MRE Bar is made from whole-food sources! A lot of bars have artificial main ingredients – who wants to eat ingredients that you can't even pronounce the name of? Unlike the rest of the bars on the shelf, Redcon1's MRE Bar has ingredients like oats, salmon, chicken, eggs, brown rice and sweet potato. These ingredients give our meal replacement protein bar an amazing taste, unmatched flavor and the nutrition that gives you sustained energy throughout the day. The Taste Just like the shake, the MRE Bar is absolutely delicious in any flavor. There is no guess work when it comes to flavors – you know what you're eating as soon as it hits your tongue. Unlike other bars, MRE Bar is true to flavor name and what you read is what you get. MRE Bar is like having dessert for a snack, but with real whole food and the macros you need to fit your day. Convenience Sometimes carrying a shaker and finding water – like on a road trip or in the middle of running errands – is not always possible. Not only that, you might not want to replace an entire meal with five hundred calories from the traditional MRE, but just have a snack to curb your hunger and cravings. Your prayers have been answered with the MRE Bar, no shaker, less calories and just a snack that you can eat instead of drink. It's the same superior ingredients made of real whole foods, but with snack size calories and more flavor than you can ask for.

Juste au moment où vous ne pensiez pas que le MRE de Redcon1 pourrait s'améliorer, nous avons amélioré notre jeu avec MRE Bar. Cette vraie barre de remplacement de repas changera votre vision des barres protéinées pour toujours, car l'époque des alcools de sucre lourds ajoutés à vos barres est révolue depuis longtemps. Tout comme avec la formule de poudre de protéine MRE, la barre MRE de Redcon1 ne contient que des sources d'aliments complets qui ne perturberont pas votre estomac, ne provoqueront pas de crampes ou ne vous donneront pas de gaz indésirables. Les Macros Beaucoup de barres sur les étagères du magasin ont des excès de sucre allant de 15g et même au-dessus de 20g par barre ! Une collation ou un substitut de repas sain limite votre consommation de sucre et ne l'amène pas à l'excès. Non seulement cela, il y a généralement une tonne de glucides et une faible teneur en protéines ou juste un énorme déséquilibre dans le nombre de macros avec un panel de nutrition foiré. La barre MRE de Redcon1 contient un maigre 6 g de sucre avec un rapport sain de 29 g de glucides et 20 g de protéines qui sont équilibrés avec 9 g de graisses. Ces comptes macro sont parfaits pour alimenter votre entraînement sans pic d'insuline drastique et donner le meilleur de vous-même. Ne contenant que 260 calories au total par barre, c'est le repas idéal pour une collation lors de vos déplacements ou avant l'entraînement, qui regorge d'une bonne nutrition à base de vrais aliments et ne vous fera pas vous sentir trop plein. Les barres Texture Protein peuvent être assez dégoûtantes quand elles sont toutes moelleuses et un gros bloc de caramel plutôt que de ressembler à de la nourriture appétissante. Personne ne veut porter sa collation sur ses doigts car elle est collante ou a une barre trop difficile à briser, difficile à mâcher et qui se coince dans les dents. Une barre de substitut de repas devrait avoir l'impression de manger de la nourriture ! La barre MRE de Redcon1 se décompose facilement avec une texture étonnante semblable à celle d'un aliment agréable à mâcher. La barre MRE ressemble à de la vraie nourriture, a le goût de la vraie nourriture et se mâche comme de la vraie nourriture. Fabriqué à partir de vrais aliments Lorsque vous mangez un substitut de repas, vous devriez manger de vrais aliments. Tout comme la poudre MRE de Redcon1, la barre MRE est fabriquée à partir de sources d'aliments complets ! Beaucoup de barres contiennent des ingrédients principaux artificiels – qui veut manger des ingrédients dont vous ne pouvez même pas prononcer le nom ? Contrairement au reste des barres sur l'étagère, la barre MRE de Redcon1 contient des ingrédients comme de l'avoine, du saumon, du poulet, des œufs, du riz brun et des patates douces. Ces ingrédients donnent à notre barre protéinée substitut de repas un goût incroyable, une saveur inégalée et la nutrition qui vous donne une énergie soutenue tout au long de la journée. Le goût Tout comme le shake, la barre MRE est absolument délicieuse dans n'importe quelle saveur. Il n'y a pas de devinette quand il s'agit de saveurs - vous savez ce que vous mangez dès qu'il frappe votre langue. Contrairement aux autres barres, MRE Bar est fidèle au nom de la saveur et ce que vous lisez est ce que vous obtenez. MRE Bar, c'est comme prendre un dessert pour une collation, mais avec de la vraie nourriture complète et les macros dont vous avez besoin pour s'adapter à votre journée. Commodité Parfois, il n'est pas toujours possible de transporter un shaker et de trouver de l'eau – comme lors d'un voyage sur la route ou au milieu de courses. Non seulement cela, vous ne voudrez peut-être pas remplacer un repas entier par cinq cents calories provenant du MRE traditionnel, mais simplement une collation pour réduire votre faim et vos fringales. Vos prières ont été exaucées avec la barre MRE, pas de shaker, moins de calories et juste une collation que vous pouvez manger au lieu de boire. Ce sont les mêmes ingrédients de qualité supérieure faits de vrais aliments entiers, mais avec des calories de la taille d'une collation et plus de saveur que vous ne pouvez en demander.
Beef protein blend, salmon protein, chicken protein, egg protein, brown rice protein and pea protein
Rolled oats, yams and sweet potato
Commonly extracted from coconut oil, MCT (medium chain triglyceride) oil is a source of fats that the body can efficiently use as a source of energy
Mélange de protéines de bœuf, protéines de saumon, protéines de poulet, protéines d'œufs, protéines de riz brun et protéines de pois
Flocons d'avoine, ignames et patate douce
Communément extraite de l'huile de noix de coco, l'huile MCT (triglycéride à chaîne moyenne) est une source de graisses que le corps peut utiliser efficacement comme source d'énergie.
1.What makes the MRE Bar unique?
The MRE Bar is made from whole food sources.
2.What are the protein sources?
The MRE Bar is made from beef, chicken, salmon, and egg protein.
3.What are the carb sources?
Gluten free rolled oats, yams, and sweet potatoes.
4.What are fat sources?
The healthy fat comes from MCT oil.
5.Is the MRE Bar hard, does it get hard like other bars?
No, the MRE Bar is a whole food bar, so it does not contain the whey core that causes other bars to harden.
6.What is the MRE Bars shelf life?
The shelf life is 18 months.
1.Qu'est-ce qui rend le bar MRE unique ?
La barre MRE est fabriquée à partir de sources d'aliments entiers.
2.Quelles sont les sources de protéines ?
La barre MRE est composée de protéines de bœuf, de poulet, de saumon et d'œuf.
3.Quelles sont les sources de glucides ?
Flocons d'avoine, ignames et patates douces sans gluten.
4.Quelles sont les sources de graisse ?
La graisse saine provient de l'huile MCT.
5.La barre MRE est-elle dure, devient-elle dure comme les autres barres ?
Non, la barre MRE est une barre alimentaire entière, elle ne contient donc pas le noyau de lactosérum qui fait durcir les autres barres.
6.Quelle est la durée de conservation des barres MRE ?
La durée de conservation est de 18 mois.
Awards: