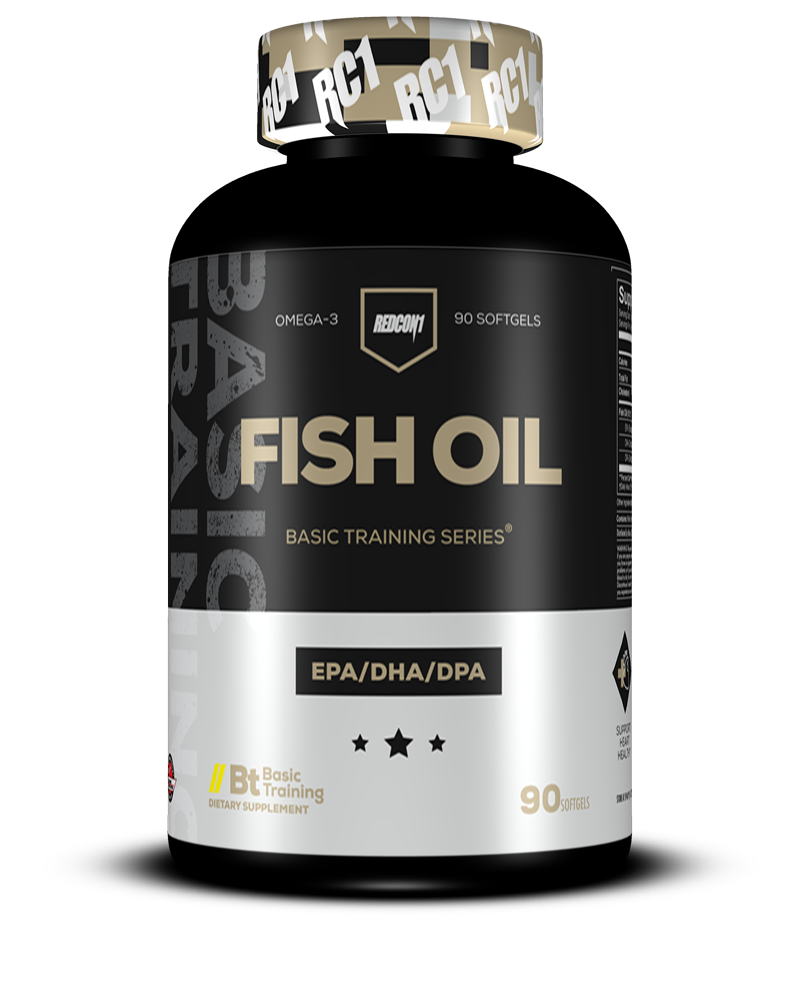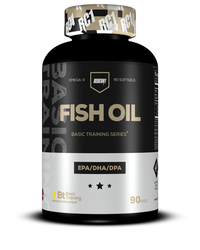 Fish Oil
Pay Over Time
Complete Omega-3 Supplement
The Objective:
WE ALL KNOW THE BEST WAY TO GET OMEGA-3 FATTY ACIDS IN OUR DIET IS THROUGH EATING FISH, BUT WE ALSO KNOW MOST PEOPLE DON'T CARE TO COOK OR EAT FISH. ENTER BASIC TRAINING SERIES FISH OIL. RICH IN OMEGA 3s, CONSISTING OF EPA, DHA AND DPA, BASIC TRAINING SERIES FISH OIL IS A GREAT WAY TO SUPPLEMENT YOUR DIET WITHOUT THE MESS OR SMELL OF COOKING FISH.

NOUS SAVONS TOUS QUE LA MEILLEURE FAÇON D'OBTENIR DES ACIDES GRAS OMÉGA-3 DANS NOTRE ALIMENTATION EST DE MANGER DU POISSON, MAIS NOUS SAVONS ÉGALEMENT QUE LA PLUPART DES GENS NE SE SOIENT PAS DE CUISINER OU DE MANGER DU POISSON. ENTREZ DANS L'HUILE DE POISSON DE LA SÉRIE DE FORMATION DE BASE. RICHE EN OMÉGA 3, COMPOSÉE D'EPA, DHA ET DPA, L'HUILE DE POISSON DE LA SÉRIE BASIC TRAINING EST UN EXCELLENT MOYEN DE COMPLÉTER VOTRE ALIMENTATION SANS LE DÉSORDRE NI L'ODEUR DE CUISSON DU POISSON.
Suggested Use:
AS A DIETARY SUPPLEMENT, TAKE ONE SOFTGEL DAILY, PREFERABLY WITH A MEAL.

COMME COMPLÉMENT ALIMENTAIRE, PRENDRE UNE GÉLULE PAR JOUR, DE PRÉFÉRENCE AVEC UN REPAS.
Support Brain and Heart Health
Basic Training Fish oil is a versatile supplement, rich in Omega-3 fatty acids, that casts a wide net of benefits across a broad spectrum of areas including brain function, heart health, joint and muscle support, and immune health. Omega-3 fatty acids are essential for proper function, but our bodies cannot produce them. Thus, we must obtain them through food or supplements. While most people connect Fish Oil with heart and brain health, this robust supplement can also enhance athletic performance and can be beneficial to take both before or after training. Omega-3s can help combat free radicals that build up during intense training and enhance exercise endurance while also promoting a faster recovery post training and reducing muscle soreness. Ingredient Info: Fish Oil 1000mg, Oil extracted from fish tissue that is rich in Omega-3 fatty acids with a wide variety of health benefits including supporting the heart, kidneys, blood system, eye health and brain function. It may also reduce muscle soreness. Ways to Customize your Supplementation: Recommended to take 1-2 servings on training and non-training days. Can be taken any time of day, but do not take more than 1 serving at a time as they should be split up. Consider taking 1 serving in the morning with a B.A.R. Take post workout with a quick digesting protein shake with Isotope or MRE Lite to help combat muscle soreness.

L'huile de poisson est un complément polyvalent, riche en acides gras oméga-3, qui offre un large éventail d'avantages dans un large éventail de domaines, notamment la fonction cérébrale, la santé cardiaque, le soutien des articulations et des muscles et la santé immunitaire. Les acides gras oméga-3 sont essentiels au bon fonctionnement, mais notre corps ne peut pas les produire. Ainsi, nous devons les obtenir par le biais d'aliments ou de suppléments. Alors que la plupart des gens associent l'huile de poisson à la santé du cœur et du cerveau, ce supplément robuste peut également améliorer les performances sportives et peut être bénéfique à prendre avant ou après l'entraînement. Les oméga-3 peuvent aider à combattre les radicaux libres qui s'accumulent pendant un entraînement intense et à améliorer l'endurance à l'exercice tout en favorisant une récupération plus rapide après l'entraînement et en réduisant les douleurs musculaires. Informations sur les ingrédients : huile de poisson 1000 mg, huile extraite de tissu de poisson riche en acides gras oméga-3 avec une grande variété d'avantages pour la santé, y compris le soutien du cœur, des reins, du système sanguin, de la santé oculaire et de la fonction cérébrale. Il peut également réduire les douleurs musculaires. Façons de personnaliser votre supplémentation : Il est recommandé de prendre 1 à 2 portions les jours d'entraînement et sans entraînement. Peut être pris à tout moment de la journée, mais ne prenez pas plus d'une portion à la fois car elles doivent être fractionnées. Envisagez de prendre 1 portion le matin avec un B.A.R. Après l'entraînement, prenez un shake protéiné à digestion rapide avec Isotope ou MRE Lite pour aider à combattre les douleurs musculaires.
Awards: