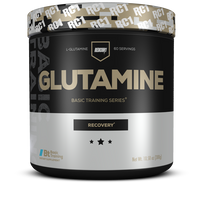 Glutamine
Pay Over Time
The Objective:
INTENSE EXERCISE RAPIDLY REPLETES STORES OF GLUTAMINE LEVELS, SUPPLEMENTATION MAY HELP MAINTAIN THESE CRUCIAL GLUTAMINE LEVELS. ENTER BASIC TRAINING SERIES GLUTAMINE. GLUTAMINE IS INVOLVED IN PROTEIN SYNTHESIS AND PLAYS A PIVOTAL ROLE IN THE BODY'S NITROGEN BALANCE, PROVIDES FUEL FOR THE IMMUNE SYSTEM AND HELPS MAINTAIN PROPER INTESTINAL FUNCTION. ENSURE OPTIMAL RECOVERY WITH BASIC TRAINING SERIES GLUTAMINE.

L'EXERCICE INTENSE REMPLIT RAPIDEMENT LES MAGASINS DE NIVEAUX DE GLUTAMINE, LA SUPPLÉMENTATION PEUT AIDER À MAINTENIR CES NIVEAUX CRUCIAUX DE GLUTAMINE. ENTREZ DANS LA SÉRIE DE FORMATION DE BASE GLUTAMINE. LA GLUTAMINE EST IMPLIQUÉE DANS LA SYNTHÈSE DES PROTÉINES ET JOUE UN RÔLE ESSENTIEL DANS L'ÉQUILIBRE AZOTE DU CORPS, FOURNIT DU CARBURANT POUR LE SYSTÈME IMMUNITAIRE ET AIDE À MAINTENIR UNE FONCTION INTESTINALE APPROPRIÉE. ASSUREZ-VOUS UNE RÉCUPÉRATION OPTIMALE AVEC LA SÉRIE BASIC TRAINING GLUTAMINE.
Suggested Use:
AS A DIETARY SUPPLEMENT, MIX ONE SCOOP (5G) WITH 8-10 FL. OZ OF WATER OR YOUR FAVORITE BEVERAGE. FOR BEST RESULTS, TAKE PRE AND POST-WORKOUT.

COMME COMPLÉMENT ALIMENTAIRE, MÉLANGER UNE CUILLÈRE (5G) AVEC 8-10 FL. OZ D'EAU OU VOTRE BOISSON PRÉFÉRÉE. POUR DE MEILLEURS RÉSULTATS, PRENDRE PRÉ ET POST-ENTRAÎNEMENT.
Train Hard. Recover Faster
Glutamine is the most common amino acid found in muscle tissue. It is involved in protein synthesis and plays a pivotal role in the body's nitrogen balance, provides fuel for the immune system and helps maintain proper intestinal function. While the body produces glutamine, there are times when the body may need more glutamine than it can produce. Intense exercise is one of these scenarios, as it can rapidly deplete glutamine stores, directly affecting the immune system and muscle synthesis. Supplementing with Glutamine may help maintain these critical glutamine levels and support some of your body's most basic functions, especially when training and putting exercise-induced stress on the body. Ingredient Info: Glutamine is the most abundant amino acid in the body, and much of it is stored in muscle tissue. Glutamine transports nitrogen into your muscle cells and plays a significant role in muscle protein synthesis and in preventing muscle breakdown. Glutamine also provides support to the immune system. Ways to Customize your Supplementation: Add a scoop to your Grunt or Breach and sip on non-training days to help prevent muscle breakdown. Add to your post workout shake on heavy or high endurance training days to enhance recovery and muscle protein synthesis. Stack with Basic Training Vitamin C for robust immune support.

La glutamine est l'acide aminé le plus couramment trouvé dans les tissus musculaires. Il est impliqué dans la synthèse des protéines et joue un rôle central dans l'équilibre azoté de l'organisme, fournit du carburant au système immunitaire et aide à maintenir un bon fonctionnement intestinal. Alors que le corps produit de la glutamine, il y a des moments où le corps peut avoir besoin de plus de glutamine qu'il ne peut en produire. L'exercice intense est l'un de ces scénarios, car il peut rapidement épuiser les réserves de glutamine, affectant directement le système immunitaire et la synthèse musculaire. Une supplémentation en glutamine peut aider à maintenir ces niveaux critiques de glutamine et à soutenir certaines des fonctions les plus élémentaires de votre corps, en particulier lors de l'entraînement et du stress induit par l'exercice sur le corps. Informations sur les ingrédients : La glutamine est l'acide aminé le plus abondant dans le corps, et une grande partie est stockée dans les tissus musculaires. La glutamine transporte l'azote dans vos cellules musculaires et joue un rôle important dans la synthèse des protéines musculaires et dans la prévention de la dégradation musculaire. La glutamine fournit également un soutien au système immunitaire. Façons de personnaliser votre supplémentation : Ajoutez une cuillère à votre Grunt ou Breach et buvez les jours sans entraînement pour aider à prévenir la dégradation musculaire. Ajoutez à votre shake après l'entraînement les jours d'entraînement intense ou de haute endurance pour améliorer la récupération et la synthèse des protéines musculaires. Empilez avec la vitamine C Basic Training pour un soutien immunitaire robuste.
Awards: