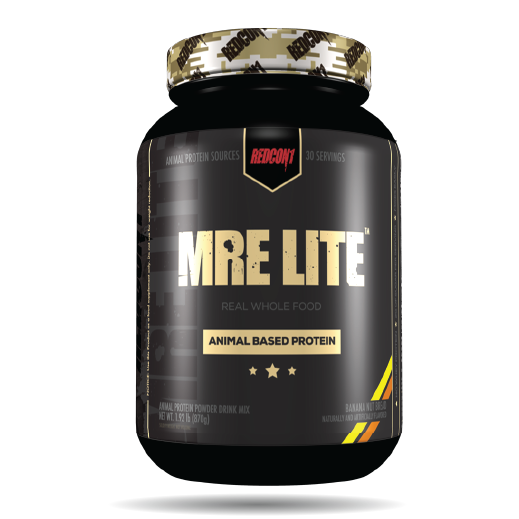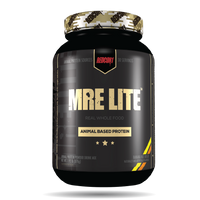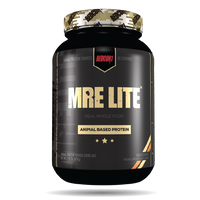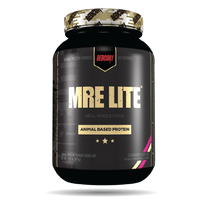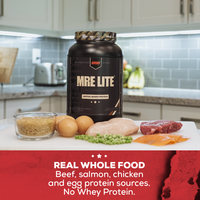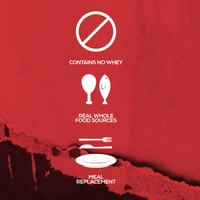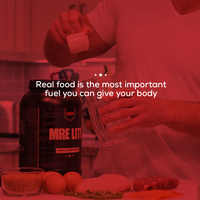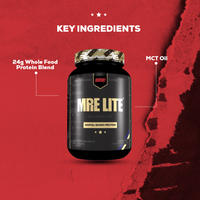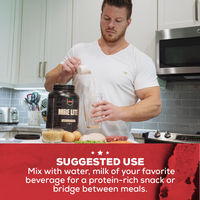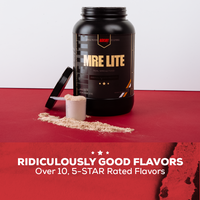 Animal Based Protein
MRE Lite
30 Servings
Pay Over Time
Real Whole Food Protein Powder
The Objective:
OUR WHOLE FOOD MEAL REPLACEMENT POWDER MRE IS NOW AVAILABLE IN LOWER CALORIES – INTRODUCING MRE LITE. MRE LITE DELIVERS THE SAME GREAT TASTE AND WHOLE FOOD SOURCES AS OUR ORIGINAL MRE FORMULA, BUT WITH MUCH LESS CARBOHYDRATES, IDEAL FOR THE PERSON KEEPING A CLOSE AND WATCHFUL EYE ON THEIR MACRONUTRIENTS. THAT MEANS IF YOU'RE DIETING AND ON RESTRICTED CALORIES, YOU TOO CAN ENJOY THE ONE-OF-A-KIND, WHOLE FOOD MEAL REPLACEMENT POWDER MRE LITE.

NOTRE POUDRE DE REMPLACEMENT DE REPAS ENTIER MRE EST MAINTENANT DISPONIBLE EN CALORIES PLUS FAIBLES - VOICI MRE LITE. MRE LITE OFFRE LE MÊME GOT ET LES MÊMES SOURCES ALIMENTAIRES ENTIÈRES QUE NOTRE FORMULE MRE D'ORIGINE, MAIS AVEC BEAUCOUP MOINS DE GLUCIDES, IDÉAL POUR LA PERSONNE SURVEILLANT LEURS MACRONUTRIMENTS. CELA SIGNIFIE QUE SI VOUS SUIVEZ UN RÉGIME ET QUE VOUS AVEZ DES CALORIES RESTREINTES, VOUS POUVEZ AUSSI PROFITER DE LA POUDRE DE REMPLACEMENT DE REPAS COMPLET MRE LITE, UNIQUE EN SON GENRE.
Suggested Use:
FOR ADDED DIETARY PROTEIN, A BRIDGE BETWEEN MEALS OR A PROTEIN-RICH SNACK, MIX (1) SCOOP OF MRE LITETM WITH 4-6 OUNCES OF YOUR FAVORITE BEVERAGE, SHAKE WELL AND CONSUME.

POUR AJOUTER DES PROTÉINES ALIMENTAIRES, UN PONT ENTRE LES REPAS OU UNE COLLATION RICHE EN PROTÉINES, MÉLANGEZ (1) SCOOP DE MRE LITETM AVEC 4-6 ONCES DE VOTRE BOISSON PRÉFÉRÉE, BIEN AGITER ET CONSOMMER.
Low Carb Meal Replacement
Our whole food meal replacement, MRE is now available in lower calories. In the military, M.R.E. stands for Meals Ready to Eat, these meal packs are given to soldiers out in the field for fuel during intense combat situations. We built upon that concept and offer to you a delicious tasting whole food meal replacement packed full of healthy food choices that will replenish your system when you need it the most. MRE Lite will deliver the same great taste and excellent source of whole foods as our original MRE formula, but with much lower carbohydrates for the person keeping a close and watchful on his or her macronutrients. That means if you're dieting and on restricted calories, you too, can enjoy the wonders that MRE can do for your physique. MRE Lite contains no whey protein allowing for easy digestion. Instead, you'll get beef, salmon, egg, and chicken protein. Plus, the healthy benefits of brown rice protein, pea protein, and MCT oil. Each serving is just 134 calories with 24g of protein and just 2g of sugar. No Whey Protein Just 2g of Sugar per serving Mixes easily without a blender Keto friendly Allergen Contains: Milk, Eggs, Fish (Salmon), Coconut Warning: manufactured on shared equipment which processes products containing milk, egg, soybean, wheat, shellfish, fish, tree nut flavor and peanut flavor


Notre substitut de repas complet, MRE, est maintenant disponible en moins de calories. Dans l'armée, M.R.E. signifie Meals Ready to Eat, ces packs de repas sont donnés aux soldats sur le terrain pour le carburant lors de situations de combat intenses. Nous nous sommes basés sur ce concept et vous proposons un délicieux substitut de repas complet contenant des aliments sains qui reconstitueront votre système lorsque vous en aurez le plus besoin. MRE Lite offrira le même bon goût et une excellente source d'aliments entiers que notre formule MRE originale, mais avec beaucoup moins de glucides pour la personne qui surveille de près ses macronutriments. Cela signifie que si vous suivez un régime et que vous consommez peu de calories, vous pouvez également profiter des merveilles que MRE peut faire pour votre physique. MRE Lite ne contient aucune protéine de lactosérum permettant une digestion facile. Au lieu de cela, vous obtiendrez des protéines de bœuf, de saumon, d'œuf et de poulet. De plus, les bienfaits pour la santé des protéines de riz brun, des protéines de pois et de l'huile de MCT. Chaque portion ne contient que 134 calories avec 24 g de protéines et seulement 2 g de sucre. Pas de protéines de lactosérum Seulement 2 g de sucre par portion Se mélange facilement sans mélangeur Allergène compatible avec le céto Contient : lait, œufs, poisson (saumon), noix de coco Avertissement : fabriqué sur un équipement partagé qui traite des produits contenant du lait, des œufs, du soja, du blé, des crustacés, du poisson , saveur de noix et saveur d'arachide
Beef protein blend, salmon protein, chicken protein, egg protein, brown rice protein and pea protein
Commonly extracted from coconut oil, MCT (medium chain triglyceride) oil is a source of fats that the body can efficiently use as a source of energy
Mélange de protéines de bœuf, protéines de saumon, protéines de poulet, protéines d'œufs, protéines de riz brun et protéines de pois
Communément extraite de l'huile de noix de coco, l'huile MCT (triglycéride à chaîne moyenne) est une source de graisses que le corps peut utiliser efficacement comme source d'énergie.
1. Is MRE LITE vegan friendly?
Just like regular MRE, MRE LITE is not vegan friendly. MRE LITE is made from animal protein sources such as fish, beef, eggs and chicken.
2. Is MRE LITE dairy free?
NO. While MRE Lite contains no whey protein, it does contain dairy and should not be consumed if you have a dairy allergy.
3. Does MRE LITE contain whey?
No, MRE LITE does not contain whey protein but mixes super easy.
4. Can MRE LITE be used as a meal replacement?
MRE LITE can be used as a quick snack in between meals.
5. Is MRE LITE foamy?
Minimal foam if any.
6. Is MRE LITE clumpy?
No, MRE LITE mixes easily and goes down smooth.
7. Is MRE LITE meant to only be mixed with water?
No just like regular MRE, MRE LITE can be mixed with water, milk, almond milk or whatever your preference is.
8. Can you taste the salmon?
No, you absolutely can NOT taste the salmon.
1. MRE LITE est-il végétalien ?
Tout comme le MRE ordinaire, le MRE LITE n'est pas adapté aux végétaliens. MRE LITE est fabriqué à partir de sources de protéines animales telles que le poisson, le bœuf, les œufs et le poulet.
2. MRE LITE est-il sans produits laitiers ?
NON. Bien que MRE Lite ne contienne pas de protéines de lactosérum, il contient des produits laitiers et ne doit pas être consommé si vous avez une allergie aux produits laitiers.
3. MRE LITE contient-il du lactosérum ?
Pas de lactosérum mais des mélanges super faciles.
4. MRE LITE peut-il être utilisé comme substitut de repas ?
MRE LITE peut être utilisé comme collation rapide entre les repas.
5. MRE LITE est-il mousseux ?
Mousse minimale s'il y en a.
6. MRE LITE est-il grumeleux ?
Non, MRE LITE se mélange très facilement et se dépose en douceur.
7. MRE LITE est-il destiné à être mélangé uniquement avec de l'eau ?
Non, tout comme le MRE ordinaire, LITE peut être mélangé avec de l'eau, du lait, du lait d'amande ou selon vos préférences.
8. Pouvez-vous goûter le saumon ?
Non, vous ne pouvez absolument PAS goûter le saumon.
Awards: