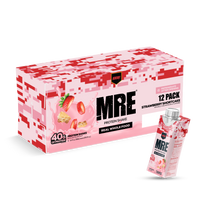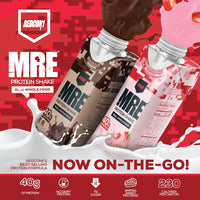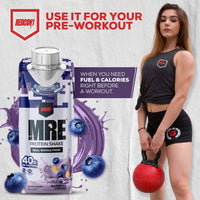 Ready to Drink Protein Shake
MRE RTD -12 PACK
12 Servings
Pay Over Time
The Objective:
Being at THE HIGHEST STATE OF READINESS does not just mean pre- or post- training. It's being prepared, ready and at your best, all the time….even on-the-go. So, we've taking our best-belling protein powder, MRE®, and made a convenient, ready-to-drink shake that delivers quality nutrition and will keep you fueled anytime, anywhere. MRE® PROTEIN SHAKE features an ingredient profile consistent with the entire MRE line: whole food protein sources, never any whey or lactose, and delicious milkshake-like flavors. With 40g of protein from real whole food in each shake, it's never been easier or more convenient to have a nutritious, satisfying meal, no matter your schedule.

Être au PLUS HAUT ÉTAT DE PRÉPARATION ne signifie pas seulement avant ou après la formation. Il est préparé, prêt et à votre meilleur, tout le temps… même en déplacement. Nous avons donc pris notre poudre de protéine la plus attrayante, MRE®, et avons préparé un shake pratique et prêt à boire qui offre une nutrition de qualité et vous gardera en forme à tout moment, n'importe où. MRE® PROTEIN SHAKE présente un profil d'ingrédients cohérent avec l'ensemble de la gamme MRE : des sources de protéines alimentaires complètes, jamais de lactosérum ou de lactose, et de délicieuses saveurs de milkshake. Avec 40 g de protéines provenant de vrais aliments entiers dans chaque shake, il n'a jamais été aussi facile ou pratique d'avoir un repas nutritif et satisfaisant, quel que soit votre emploi du temps.
Suggested Use:
FOR ADDED DIETARY PROTEIN, A BRIDGE BETWEEN MEALS OR A NUTRITIOUS SNACK, SHAKE WELL AND ENJOY. BEST SERVED COLD. REFRIGERATE AFTER OPENING.

POUR UN AJOUT DE PROTÉINES ALIMENTAIRES, UN PONT ENTRE LES REPAS OU UNE COLLATION NUTRITIVE, BIEN AGITER ET PROFITER. MEILLEUR SERVI FROID. RÉFRIGÉRER APRÈS OUVERTURE.
REAL WHOLE FOOD. REAL RESULTS. You asked for it. We delivered. Our whole food meal replacement, MRE, is now available on-the-go. In the military, M.R.E. stands for Meals Ready to Eat; these meal packs are given to soldiers out in the field for fuel during intense combat situations. The Redcon1, MRE product family is built upon that concept. Every product in the line offers you a whole food meal replacement packed full of delicious food choices that will replenish your system when you need it most. MRE Protein Shake delivers the same milkshake taste and similar whole food sources as our MRE protein powders, but it comes as a ready to drink shake. MRE Protein Shake is ready to fuel you up, anytime, anywhere. Take it on-the-go when you're running between activities. Sip it in the morning on the way to work. Drink it pre or post workout when your body needs fuel. Use it as a snack between larger meals. Whatever your needs, this is the ideal shake. Plus the flavors, which we worked on meticulously, are better than anything else on the market.MRE Protein Shake contains no whey protein, allowing for easy digestion.Instead you'll get Instead you'll get beef, egg white, pea and brown rice protein.Each shake 230 calories, 40g of protein and 0g of sugar. No need to mix messy powder, just shake and drink. Contains: Milk, Egg.

VRAI ALIMENT ENTIER. RÉSULTATS RÉELS.

Vous l'avez demandé. Nous avons livré. Notre substitut de repas complet, MRE, est maintenant disponible sur le pouce. Dans l'armée, M.R.E. signifie repas prêts à manger; ces packs de repas sont donnés aux soldats sur le terrain pour le carburant lors de situations de combat intenses. La famille de produits Redcon1, MRE repose sur ce concept. Chaque produit de la gamme vous offre un substitut de repas complet rempli de délicieux choix alimentaires qui réapprovisionneront votre système lorsque vous en aurez le plus besoin. Le shake protéiné MRE offre le même goût de milkshake et des sources d'aliments entiers similaires que nos poudres de protéines MRE, mais il se présente sous la forme d'un shake prêt à boire. MRE Protein Shake est prêt à vous alimenter, à tout moment, n'importe où. Emportez-le en déplacement lorsque vous courez entre deux activités. Sirotez-le le matin sur le chemin du travail. Buvez-le avant ou après l'entraînement lorsque votre corps a besoin de carburant. Utilisez-le comme collation entre les gros repas. Quels que soient vos besoins, c'est le shake idéal. De plus, les saveurs, sur lesquelles nous avons travaillé méticuleusement, sont meilleures que tout ce qui existe sur le marché. Le shake protéiné MRE ne contient pas de protéines de lactosérum, ce qui facilite la digestion. À la place, vous obtiendrez du bœuf, du blanc d'œuf, des pois et du brun protéine de riz.Chaque shake 230 calories, 40g de protéines et 0g de sucre. Pas besoin de mélanger de la poudre désordonnée, il suffit de secouer et de boire. Contient : Lait, Oeuf.
Beef Protein Isolate, Pea Protein, Brown Rice Protein, Egg White Protein.
Medium Chain Triglycerides are a source of fat that the body can efficiently use as a source of energy.
Isolat de protéine de bœuf, protéine de pois, protéine de riz brun, protéine de blanc d'œuf.
Les triglycérides à chaîne moyenne sont une source de graisse que le corps peut utiliser efficacement comme source d'énergie.
1. What is the carbohydrate content?
6g of carbohydrates in the entire contents of the shake.
2. What Ingredient are used as carbs?
There are 6g of carbohydrates, which come from fiber and the flavor system.
3. Which potential allergen ingredients are included in the product?
Milk, Egg.
4. Is MRE Protein Shake Keto or gluten free?
MRE Protein Shake is not Keto friendly. It is gluten free and sugar free.
5. Is there Milk in this product?
Yes, there is milk in the flavor system.
6. Do these need to be refrigerated? 
MRE Protein Shake needs to be refrigerated after opening. We suggest drinking them cold.  
7. How long is the shelf life?
15 months.
8. Are these for sale in stores too? 
Yes. They will all be available in stores by Jan 1, 2021.
9. Can these be shipped internationally? 
Yes.
1. Quelle est la teneur en glucides ?
6g de glucides dans tout le contenu du shake.
2. Quel ingrédient est utilisé comme glucides ?
Il y a 6g de glucides, qui proviennent des fibres et du système de saveur.
3. Quels ingrédients allergènes potentiels sont inclus dans le produit ?
Lait, oeuf.
4. Le shake protéiné MRE est-il sans gluten ou sans gluten ?
MRE Protein Shake n'est pas compatible avec Keto. Il est sans gluten et sans sucre.
5. Y a-t-il du lait dans ce produit ?
Oui, il y a du lait dans le système de saveur.
6. Faut-il les réfrigérer ? 
MRE Protein Shake doit être réfrigéré après ouverture. Nous vous suggérons de les boire froids. 
7. Quelle est la durée de conservation ?
15 mois.
8. Sont-ils également en vente dans les magasins ?
Oui. Ils seront tous disponibles en magasin d'ici le 1er janvier 2021.
9. Ceux-ci peuvent-ils être expédiés à l'international ? 
Oui.
Awards:
MRE RTD, Ready To Drink, Protein Shake (Case of 12)